Owners & Managers
Online commercial real estate education and training for more deals, bigger profits & faster growth.
Accurately test, train and recruit.
Expand Your Sales Team
A comprehensive, affordable and easy-to-use commercial education and training platform to test, train and rapidly grow your team.
Close More Lucrative Commercial Deals
Open up the lucrative world of commercial real estate via investment, development and lease deals to generate more deals and bigger profits.
Dramatically Reduce Liabilities
With big commercial deals comes big liabilities. Discover how to structure deals to dramatically reduce liabilities so your office is never at risk.
A Bankable Profit Center
Consistent, high-margin commercial deals can create a bankable profit center that is a key driver of your office's success.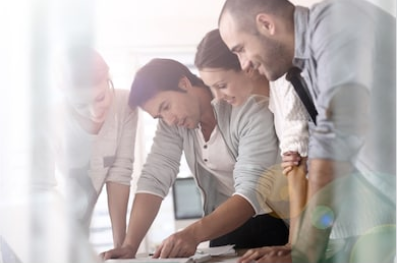 Watch Online Commercial Real Estate Education and Learning in Action
It's a competitive world out there. Every office wants the top recruits. Get ahead and expand your commercial real estate team by offering the best (and only) 100% online commercial real estate training and recruiting platform, letting your team learn whenever and wherever you like. No classrooms, DVD's or downloads. Conveniently learn it all online at your own pace.


Bad hires are bad for business. Use our "Competency Test" to test an applicant's basic understanding of commercial real estate terms and calculations. Pre-training and pre-hiring assessment that can save you time, money and headaches.
Fast Track Trainees
Got budding sales stars in your ranks? Fast track their commercial real estate education and mentoring plan using the Competency Test. Faster learning means faster returns for your office.
View a sample Competency Test report:
Competency Test Report

Education Made Easy

Make it a cinch for your commercial trainees to learn commercial real estate. No more expensive off-site or hands-on training. Let them do it all online at their own pace with a variety of easy-to-follow, interactive education and learning activities.
In-House Training Made Easy

Effortlessly deliver group and individual training classes in your office with our hands-off in-house system. Our done-for-you training program provides you with a complete training plan and comprehensive resources. It's dead simple. No outside consultants and hardly any staff involvement needed.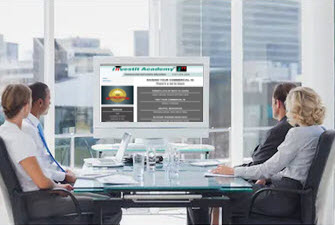 A Comprehensive 6-Part video Series
How to Analyze and Value Income Properties (3-1/4 hours)
Real Estate Investment Analysis (3-1/4 hours)
Development Analysis and Valuing Land (4-3/4 hours)
Applied Real Estate Investment and Lease Analysis (4-1/2 hours)
Creating & Profiting from Joint Ventures (3-1/4 hours)
Retail, Office & Industrial Leasing (3 hours)
Easy-to-Follow Commercial Real Estate, Learning Activities
Videos and matching manuals The Raising Your Commercial IQ video series consists of six comprehensive online commercial courses and manuals.
Flash card packs. An efficient way to learn the basic terms and calculations used in commercial real estate – and how to interpret and use them.
Micro videos Quickly watch and learn in just a few minutes. Designed to be viewed on mobile devices for the tech savvy.
Mastery Challenges Get real-time feedback  on your progress by testing your understanding of commercial real estate basics.
Practice exercises Test your knowledge and build confidence before taking each exam.
Certification Formal proctored exams and accreditation. Plus, the Investit Academy Certificate in Commercial Real Estate.
Using The Investit Academy
The Investit Academy platform is so simple to use. As an administrator, you can manage your team's training, access and exams from your intuitive dashboard. And our helpful Operating Guides Videos and Manuals walk you through step-by-step.
Mentoring and Self-Assessment
Your commercial trainees can use the mastery challenges, practice exams and exams to measure their progress. Then, working with their mentor or manager, develop and revise their personal commercial real estate educational plan.
Designed For New-Starters & Seasoned Pros
For fresh starters, the Raising Your Commercial IQ Video Series starts with the basics: investment, development and lease analysis. For more advanced learning, the course uses real-world case studies to show you how to use investment analysis techniques to put deals together and make money.
Building Deals Through Knowledge, Analysis and Creativity
The commercial IQ video series provides you with insider knowledge and battle-tested analysis tools to show you how to creatively structure real estate investment, development and lease deals.
Free Promotional Resources
Use the Investit Academy promotional brochures and pre-designed web pages to develop a marketing program to attract new recruits.
Raising the Commercial IQ of the Largest Real Estate Offices…
"…You definitely raise the bar for excellence in our industry."
~Dr. Kathleen Kagawa President and CEO The Hawaii 5-0 Group Past commissioner. Hawaii Association of Realtors
"I learned more in the 5 sessions than I have ever learned at any real estate conference I have attended! Thank you for the insight and great real life examples of properties and business opportunities. The information was extensive…"
~ Jo-Ann McLellan Smith McLellan Group Royal LePage Kelowna
"Little by little I am grasping the concepts. Even though I am a slow learner I will never give up. I greatly appreciate the clarity with which you explain this complicated subject…"
~Jorge Fajardo
"You have a unique ability to communicate complex concepts with clarity and in an easy-to-follow manner. I highly recommend your classes and software to anyone interested in commercial and investment real estate. You're a GREAT communicator and a great teacher."
~Roger Dittus MBA CCIM RE/MAX Action Brokers
"Hi Neil, we haven't met, but I'm a big fan of your courses that were provided to me by my managing broker. I really appreciate the straightforward approach the Investit Academy takes and insist anyone on my team completes the training. You do a great job of translating what can be intimidating topics into practical understanding with clear terms, practical examples and case studies that translate directly into the day-to-day work of a commercial real estate professional."
~Steve Da Cruz
About the Creator & Your Instructor

Neil Osborne has over 35 years' commercial real estate and development experience. He has taught and consulted real estate analysis and related financial topics to all levels of students and practitioners in the commercial real estate industry, from realtors, investors, and developers to appraisers and lenders. His relaxed style and easy to understand, real-life examples enables him to present complex concepts in ways that make the topics "user-friendly" and easy to learn.
Online Commercial Real Estate Education